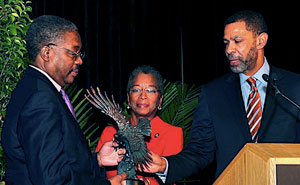 Dr. David Rivers receives award from the Honorable Donna Christensen and Mr. Michael Rashid for serving as Conference Chair.
Reducing Health Disparities Through Strengthening and Sustaining Healthy Communities
November 10 - 13, 2010 Philadelphia, PA
The importance of access to health care services that focus on prevention as well as treatment for all members of the community is well established. This is true as well for the presence of safe and affordable housing, effective schools, reliable transportation, playgrounds, clean water, a safe environment and basic services to meet the needs of people.
Yet, even in the healthiest communities, age-old disparities persist and exact an extreme toll on the quality of life and economic resources. How then, do we as a nation address these health disparities and build viable, healthy communities?
This national conference will address these questions about non-medical determinants of health, including education levels, health literacy, poverty, public safety, community design, access to care, environmental quality, environmental justice, and personal,government and corporate responsibility. Conference presenters and participants will discuss solutions, review "programs that work," and recommend policies to strengthen and enhance the current traditional "medical model" of health care through diverse, multi-disciplinary partnerships and perspective.