The Isaac W. Williams Lecture Series brings environmental policy experts to the campus of South Carolina State University in Orangeburg, SC, for the purpose of sharing their knowledge and experiences with students, faculty and community residents. Through mid-2010, the Series includes two programs:
Water: Critical Issues Facing the Future of Our Essential Natural Resource (May 2010)
Conquering Climate Change: New Opportunities, New Economies (September 2009)
The Environmental Policy Institute is housed at the James E. Clyburn University Transportation Center (JECUTC). Its mission is to develop national environmental policies that protect our environment, promote good health, enhance economic opportunities and develop sustainable communities. The JECUTC was established in 1998 as a Tier I University Transportation Center under the Transportation Equity Act of the 21st Century.
For more information, please contact either Latecia Abraham at abrahaml@musc.edu, Richard Jablonski at jablonsr@musc.edu or Glenn Fleming at flemingg@musc.edu.
---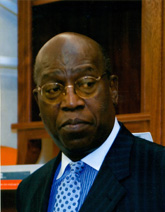 Isaac W. Williams
With the passing of Isaac W. Williams in February 2008, South Carolina lost a civil rights stalwart; a vigilant ambassador for his alma mater, South Carolina State University; and a tireless worker on behalf of all South Carolinians and their quality of life. At the time of his long-time friend's passing, United States Congressman and House Majority Whip James E. Clyburn said of Williams:
"Ike was a champion of civil rights. He was a student leader at Bonds Wilson High School and South Carolina State in the 1960s, and went on to be a long-serving Field Director for the South Carolina NAACP. His deep baritone voice always spoke on behalf of those who had no voice. His deep and abiding faith always called him to serve others.
"Although he never ran for or held political office, Ike was a skilled politician. He spent his entire life bringing people, especially African Americans, into the political process. I was fortunate to have Ike help guide my decision-making and campaign for Congress in 1992, and he continued to support my Congressional efforts during his more than 15 years on my Congressional staff.
"Ike was truly dedicated to the State of South Carolina, and it is a better place because of his tireless work."
The following is an excerpt from Congressman Clyburn's letter in support of naming an education initiative in Williams' honor:
"As you are aware, the Environmental Policy Institute's mission is to develop national environmental policies that protect our environment, promote good health, enhance economic opportunities, and develop sustainable communities. Therefore, the Lecture Series will bring a variety of experts in the above areas to South Carolina to share their knowledge and experience. Given Ike's lifelong commitment to improving the quality of life for the citizens of South Carolina, I recommend that this Lecture Series be named the Issac W. Williams Environmental Policy Lecture Series."